In OpenShift the domain name or application url by default is appname-domain.rhcloud.com. The domain can be added to a domain alias by using the CNAME record of our own domain. For example in this tutorial I want to add an alias to python-musaamine.rhcloud.com with alias py.musaamine.web.id. Later the application can be accessed using both domains.

Configure in OpenShift
1. Click the application name.
2. Click change.
3. On Domain name enter the alias domain name.

Configuration on Domain (CPanel)
1. In section Domains click Simple DNS Zone Editor.

2. On the CNAME Record
*Name = alias domain name
* CNAME = original domain name of OpenShift
3. Click Add CNAME Records.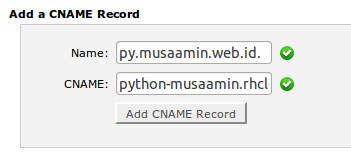 good luck
Related Posts:
PHP MySQL connection on OpenShift Red Hat Cloud
How to Upload Files To OpenShift Red Hat Cloud
How to Install WordPress on OpenShift Red Hat Cloud
How to Add Addon Domain in cPanel
Qwords Web Hosting Review