In the VirtualBox virtual machine network configuration there are several types of adapters, which I often use there are 3, namely Host-only Adapter, NAT, and Bridged Adapter. The three adapters have their respective functions, namely:

Host-only Adapter
Host-only Adapter is used if we only want to connect the Host OS network to the Guest OS (Virtual Machine).
First, configure the virtual adapter first
1. File->Preferences, select the Network menu
2. Click + to add adapters, – to remove adapters, and the screwdriver icon to edit adapters.

3. Edit Adapter
4. Adapter tab, setting the IP Address that the Host OS wants to use.

5. DHCP Server tab, if you want to use DHCP IP on Guest OS, enable DHCP Server.
NAT
Adapter type NAT if we want the Guest OS to be connected to the internet, the IP on the Guest OS does not need to be set in other words using DHCP IP.
Internal Network
By using the Internal Network, we create a virtual network of fellow Guest OS and cannot connect to the Host OS or real network.
Bridged Adapter
Bridged Adapter will use the existing physical network interface on the PC such as LAN Card and Wifi. Bridged Adapter is used if we want the Guest OS to be connected to a real network, not virtual.
6. After setting and knowing the function of the adapter above, we just need to activate the adapter in the Virtual Machine settings with a maximum number of 4 adapters.

By utilizing the Virtualbox network, we can use it to learn networks such as different OS networks between Linux and Windows, create Linux-based servers, and can also learn to configure Mikrotik OS.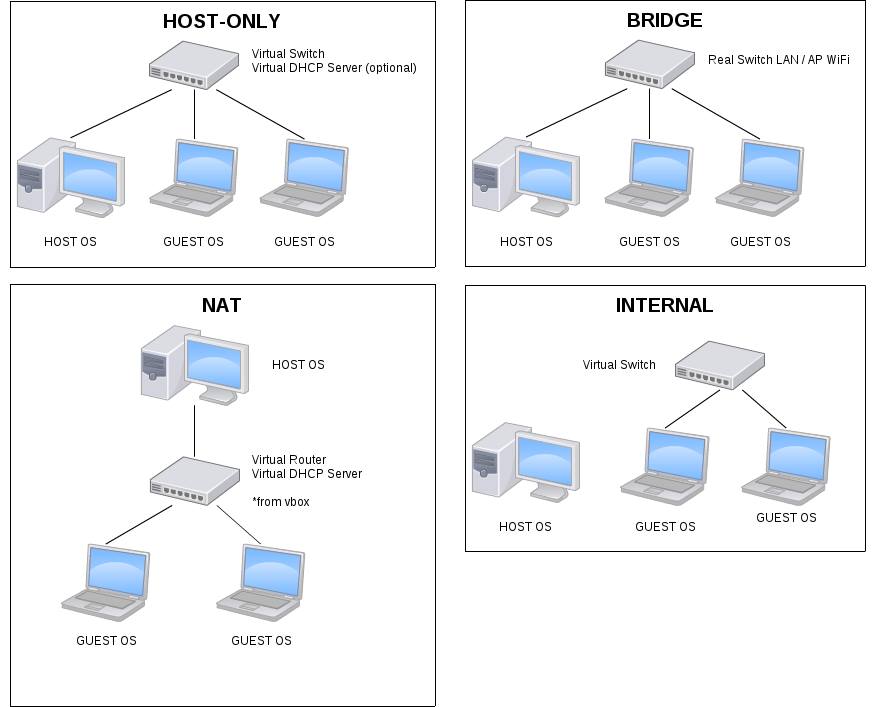 UPDATE
The Host-Only type network adapter can already communicate with the Host OS and fellow Guest OS.
good luck
Related Posts:
How to Install VirtualBox 6 on Ubuntu
How to Export and Import Virtual Machines in VirtualBox
How to Add Network Adapter in VirtualBox
How to Share Folder from Host OS to Guest OS in VirtualBox
Solving VirtualBox Error "Kernel driver not installed (rc=-1908)" on Ubuntu